Campaign Wristbands are a simple and effective way to get your message to the masses. These customized promotional products are also perfect for campaign fundraisers because they're made right here in the USA!
You may be asking yourself, "Why is that so important?"
All of the presidential candidates claim to be capable of turning the economy around. How they plan to do that brings about fiercely divided opinions, there's no debate about that! However, there's one thing that most candidates CAN agree on: products made in the USA are better for the economy and consumers appreciate that. In fact, a recent article published by the Advertising Specialty Institute (ASI) stated that:
"According to the 2020 Global Ad Impressions Study, 57% of consumers have a more favorable opinion of an advertiser if the promo item was made in the U.S., however ASI research shows that less than 2% of distributor ESP searches are for Made-in-USA products."
We have the perfect answer for anyone looking for promotional products for political fundraisers: Campaign Wristbands – MADE IN THE USA!
Let everyone know that you support American Made products by choosing our Campaign Wristbands. These wristbands allow you to get your name, message, and intentions out to the masses quickly and easily. Whether you're looking to raise campaign funds or to simply increase visibility among potential voters, Campaign Wristbands are an innovative and memorable way to help you get elected! 
Four-color imprint
Durable, crisp images
Does not flake
Returns to original near photo-quality when relaxed
Want to see more specific information about Campaign Promotional Products, including Campaign Wristbands and many more ideas? The Ad Bands Catalog is now available online! Fill out this form to instantly download your free copy! You can also download the Social Distancing Catalog while you're there.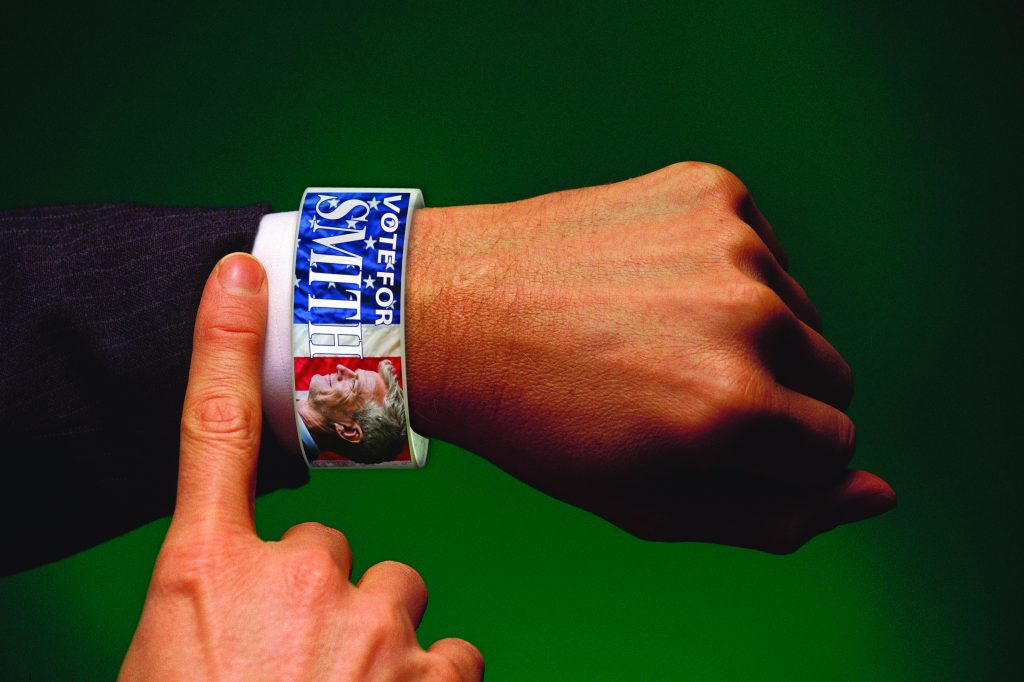 You might also be interested in…